Meet our Medical Editors
If you've read our P.A.C.K Culture, you know we're looking for people that are passionate about advancing health equity in Africa.
The AxessHealth editorial team is made up of expert medical journalists, bringing years of experience to deliver on our commitment to discussing meaningful African healthcare issues, and facilitating the dissemination of regulatory and other information from medical and regulatory bodies.
Roy Watson
After schooling in Cape Town, Salisbury (now Harare), Nairobi, Kenya, and Benoni, South Africa, British-born Roy Watson started out in the mid-1960s as a Cub Reporter on a small Johannesburg satellite town newspaper where he also had the benefit of hands-on training in news editing, sub-editing, editorial production and photography.
He gravitated into specialist journalism as a writer and editor for the then internationally-renowned Thomson Publications group of trade and technical magazines in Johannesburg.
First foray into specialist healthcare publishing came in 1977 when writing for and editing the monthly tabloid for doctors, "SA Medical Post".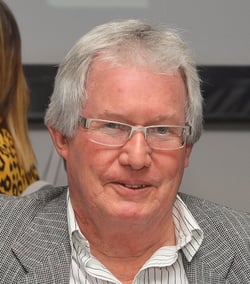 An 11-year career in medical and health sector public relations – first AE for pioneering agency MedCom and then own agency, Elite Communications Group (ECG) – followed from late 1978 before returning to publishing and ultimately become publishing editor of two monthly tabloids, "Medicine Today" and "Pharmacy Today".
Broke away from publishing again in 1997 to become communications manager of funder provider joint venture company, African Health Synergies (AHS), for seven years during which time he was co-chair of the annual AHS Managed Health Care Summit and editor of "Today's Doctor" for Independent Practitioner Association (IPA) practitioners
Since then he founded and edited practice management journal, "Health Management Review Africa" (HMR Africa), did a short stint at the SA Medical Association (SAMA) as senior journalist, and helped develop and edit a series of digital specialist health magazine titles. He has been co-editor of Med Brief Africa since 2017 inception.
Acknowledgements:
1992: Specialist Press Association (SPA) - Specialist Journalist of the Year
1996: SPA PICA Award – Healthcare Journalism
1997: SPA PICA Award – Healthcare Journalism
2009: Discovery Healthcare Journalism Awards – Finalist
2018: ASAIPA National Medical Award: 'Outstanding Contribution to Medical Reporting
Affiliations:
Institute of Marketing Management (Full Member)
Public Relations Institute of SA (Accredited – APR)
John Green
Born and educated in the Eastern Cape, John Green ("Johno") graduated with a BSc (Honours) degree (honours in Microbiology) and an Education Diploma (Bursary from the Education Dept.) from Rhodes University. He then taught biology, science and maths at Grey College in the then Port Elizabeth for six years before being lured away by a pharmaceutical company as a management trainee.
Becoming a medical rep, portfolios that followed included Training Manager, New Product Development and assistant to the Marketing Manager with a major project being the single-sponsor "SA Practice Management" magazine – in itself a pioneer in medico-legal and practice finance/administration publishing as well as on early medical practice computerisation.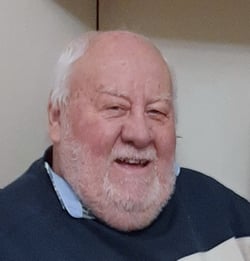 From this base he was offered the Marketing Manager post at Medical Leasing, subsequently becoming a director from which, after many years of successful service, he resigned with the ABSA Bank take-over to become MD of Medsolve. A merger followed with Mass to become MediMass.
Disenchanted with the corporate structure, Johno embarked on a brief stint as a lecturer in marketing management at Damelin and part-time at Wits Business School before re-entering the publishing fold via a doctor contact to become a major player in the launch and development of the SA Media range of specialised medical digital magazines, starting with Oncology News and then through an old Medical Leasing contact and friend, the late Dr Chris Archer, SA Private Practitioners Forum CEO, magazines for most of the SAPPF member disciplines.
The mobile phone-driven medical news app, Med Brief Africa, then evolved from a breakaway from the digital magazine group in early 2017, Johno moving with the team as liaison officer to promote the new concept among his formidable range of contacts across the board in the healthcare sector.
Chris Bateman
My newspaper career began at The Natal Witness (3 years) and continued at the Cape Times (17 years), where I covered every beat except health, something I later more than made up for.
I served for two-years as London Correspondent for the-then South African Morning Group of Newspapers, returning to help cover the historic 1994 elections before joining the Cape Times parliamentary reporting team. I resigned from the Cape Times in 2000, having made a name for myself with my township coverage during the 80's struggle years, to join the South African Medical Journal, (SAMJ), where I served as the News Editor and chief reporter.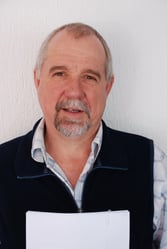 I was also editor of the sister magazine, Healthcare Gazette. Sixteen years later I resigned from the SAMJ, having won six annual Discovery Health Journalism awards (Commentary and Analysis and Best Trade Publication categories) and having edited the sister Healthcare Gazette for two years, to go freelance, full time. During my SAMJ tenure (in 2008), I won the Cape Town Press Club's Senior Journalist of the Year bursary award for my motivation to probe the Cuban training program for South African doctors and controversies surrounding the then newly-instituted compulsory community service for newly-qualified doctors. This funded story later won me a Discovery Health Journalism award. I briefly worked for SABC TV and Radio news (3 months) after leaving the Cape Times, gaining invaluable experience in these mediums.
My clients have included, among others, Biznews, Discovery Health, EthiQal (the medico-legal arm of Constantia Insurance) and the Hospital Association of South Africa, (HASA). I've built up solid, trusting relationships with key healthcare players and top decision-makers in the public and private healthcare sector, whom I readily access, and keep up to date with healthcare and political developments. I report on an almost weekly basis for Maverick Citizen, the Mail and Guardian, Spotlight, City Press, the Sunday Times and the Financial Times. My reporting experience, Nguni language ability, credibility and contact with top government officials, politicians and key players in academia, research and healthcare delivery put me in a unique position to deliver quality content for a variety of media. I edited and proofread the national HIV/TB and STD NSP plan for National Department of Health, (NDOH), released December 1st, 2016. I produced the content for Discovery Health's Foundation Awards 2019 and 2021 book, a 190-page glossy, profiling 20 of SA's top healthcare physicians and academics, handpicked for advanced study funding, aimed at strengthening the public healthcare sector.
I've also contributed to Noseweek, (RIP), Finweek, Fin24, Broombergs, Leadership Magazine and Popular Mechanics. I regularly write up medical conferences and research papers for healthcare bodies and pharma companies and can add depth to general hard news coverage. Since going freelance I've honed my skills in targeting content to any audience, thus increasing the consumer footprint of clients. I've well developed podcast, cyber-writing, voice, and facilitation skills and have led and worked with diverse groups of people. I am a qualified Self-Esteem Mentor and Life-Line counsellor with the ability to work cross culturally because of my background and Nguni language skills. I've travelled extensively and work best remotely from home where I have learnt to make the most of flexible hours in producing quality work on tight deadlines.
For the best overview of my career, interests and recent examples of my professional work, see; www.thrive2write.co.za.
Current medical news across Africa
All the latest, trending medical news today, straight to your inbox.
Our medical journalists cover the most pressing healthcare challenges in Africa. Stay up-to-date with our regular newsletter.
Check out blog and additional resources including AxessPoints (our video series).
Receive the latest medical news